How Can Microsoft Dynamics ERP help Construction Businesses?
"Are you searching for an ERP solution that can maximize your infrastructure business's efficiency? Read this blog to learn how Dynamics ERPs like Dynamics 365 F&O or Dynamics 365 Business Central can streamline financials, supply chain & project management. You can achieve real-time insights, optimize workflows, better decisions, maximize financial visibility, and increase revenue and profitability."
The Canadian Construction Industry is booming and signaling continued growth. If we look at current numbers, the total investment in building construction in Canada reached an impressive $20.6 billion, in February 2023. It shows a clear indication of sustained investor confidence in the industry.
Moreover, building permits were also up by 8.6% from the previous month, projecting a healthy demand for construction projects across various sectors.
Meanwhile, the industry's expected revenue of $184 billion for 2022 confirms its ongoing contribution to the Canadian economy.
In this article, we will explore how ERPs like D365 Finance & Operations or Business Central in Microsoft Dynamics 365 can further give a boost to driving growth and reduce the challenges construction businesses face in the industry.
What is Microsoft Dynamics ERP?
Enterprise resource planning (ERP) is an integral part of any organization. The software that helps accelerate this process is known as ERP software. Dynamics ERP is one such solution.
In precise words, Dynamics ERP is Microsoft Dynamics 365 - a suite of ERP and customer relationships management (CRM) modules.


These modules are individual business management applications that can be integrated with one another to build a robust ERP system.

The business applications in Dynamics 365 cater to the various needs of an organization; ranging from financials, supply chain management, project management, and HR to Payroll, Sales, Marketing, Services, Customer Services, and more.
What key challenges do Construction Businesses face while using an ERP solution?
Running a business in the construction industry can be challenging due to various factors, including the top 5 following difficulties:
1. Complexity of the Industry: Construction is a complex industry that involves multiple stakeholders, lengthy supply chains, intricate workflows, and regulations and compliances. A company needs an ERP solution like Dynamics 365 F&O that can help reduce these complexities significantly.
2. Project Management: Projects in construction business are notorious for delays, cost overruns, reworks, and disputes. D365 F&O comes with built-in, smart project management functionality to effectively manage your projects and deliver extraordinary experiences to people close to your business and clients.
3. Financials: Like any business, a construction business must have sound financial management practices to ensure cash flow, profitability, forecasting, budgeting, and global compliance. Dynamics 365 Finance is solely designed to cater to your finance management needs. However, Dynamics 365 for Finance and Operations already comes with finance management capabilities.
Note: If you're using Dynamics 365 for Finance, you can opt for Dynamics 365 Supply Chain Management at a minimal monthly license fee to make your supply chain intelligent.
4. Data Management: The construction industry generates a ton of data that is often siloed across multiple systems, platforms, and departments. Consolidating this data and turning it into actionable insights can be challenging.
5. Talent Management: Companies that are into building modern homes and business towers like Burj Khalifa in Dubai, Empire State Building in the heart of New York City, or the CN Tower in downtown Toronto, need to manage a diverse range of talents; from architects, engineers, and contractors to project managers, finance analysts, and human capital or HR.
How can Dynamics ERP help minimize these challenges at large?
The amazing thing with Dynamics ERP is that it offers real-time collaboration capabilities, enabling teams to collaborate more effectively, leading to more efficient communication between team members and stakeholders, alleviating errors, and promoting teamwork.
The cloud-based ERP solutions ensure easy access to data and applications, simplifying IT infrastructure and providing a platform for growth – for today and tomorrow.
With Dynamics 365 ERP, you also get the power of AI-driven business intelligence that can help a construction business to increase its efficiency, reduce costs (including the hiring costs), and improve its bottom line.
A Dynamics ERP like Dynamics 365 Finance and Operations can be the strong choice for a construction business since it's a powerful pack of several features and capabilities:
1. Project management
D365 F&O offers tools crucial for managing complex projects, allowing businesses to track costs, schedule resources, and monitor progress in real-time.
The built-in project accounting functionality also enables easy tracking and reporting of project-specific financials.
2. Smart Supply Chain
The construction industry relies heavily on an efficient and reliable supply chain. D365 F&O includes AI-driven supply chain management features such as procurement, inventory management, and logistics, enabling businesses to intelligently optimize their materials management and supply chain operations.
3. Finance Management
F&O has AI-powered data-driven financial management capabilities, including accounts payable, accounts receivable, general ledger, and financial reporting.
These tools can help construction businesses to streamline financial workflows, ensure compliance with accounting standards, and gain visibility into their financial performance.
4. Integration with other Microsoft tools
D365 F&O integrates seamlessly with other Microsoft tools such as Power BI, PowerApps, and Office 365 apps like Outlook, Teams, OneNote, SharePoint, and more.
This cross-platform seamless integration of tools with Dynamics 365 modules enables businesses to create custom workflows and dashboards, automate manual processes, and gain deeper insights into their finances and other business operations.
5. Scalability
Microsoft Dynamics 365 for Finance & Operations is a cloud-based solution that can grow with you and adapt to meet the changing needs of construction businesses. As a business expands, it can easily add new users, sites, and functionality, making D365 F&O a flexible and future-proof solution.
If you're embarking on a journey to digitally empower your construction business, Dynamics 365 F&O can be an excellent choice. You can seamlessly streamline operations, optimize costs, and improve overall efficiency and profitability.
Which Dynamics ERP modules are the best for construction businesses?
A construction business is complex to run. Streamlining financials, managing supply chain and multiple projects can be arduous at times. This is where ERP software, especially cloud-based, AI-driven ERP solutions in today's digitally powered world comes in handy.
Also, there are many business-centric ERPs available today, none of which provide functionality like Microsoft Dynamics ERPs.
Microsoft Dynamics 365 Finance and Operations (D365 F&O) is a business-specific ERP that provides real-time insights into the organization's operations and critical financial data. It allows the organization to make informed decisions based on up-to-date information.
In Addition to that, a cloud ERP solution can help businesses standardize their processes across multiple departments and locations, improving collaboration, and increasing operational efficiencies.
By centralizing data, an ERP system can break down silos and improve data sharing, making room for teams to make more informed decisions and providing deeper insights into the business.
Note: Dynamics 365 F&O is now available in two separate modules; Dynamics 365 Finance and Dynamics 365 Supply Chain Management (or combinedly known as D365 F&SCM).
Does Dynamics 365 have industry-specific ERP tools?
No. Not in particular. An ERP already includes various ERP functionalities to manage core business operations. However, if you're already using Dynamics 365 F&O ERP or Microsoft Dynamics 365 Business Central, a custom solution (an add-on or a third-party solution) like BuildPro can be integrated.
Such a solution will further power up your ERP software to help you with project management and better your MRP, contract management, risk management, financial analysis and reporting for your construction business.
Using business-specific add-ons with your current ERP, you can effectively meet industry-specific challenges and demands.
What is the Pricing Model for Dynamics 365 F&O?
Dynamics 365 Finance and Operations (F&O) pricing is based on a PAY-as-You-Use model, with several pricing tiers available to accommodate businesses of different sizes and needs. The pricing structure is flexible and scalable, allowing businesses to add or remove licenses as their needs change.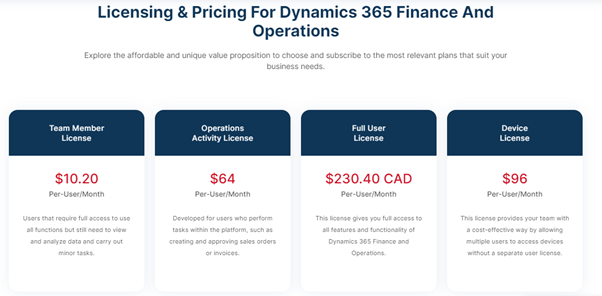 Remember: The actual cost of a Dynamics 365 F&O subscription can vary depending on multiple factors such as the number of users, features required, and length of commitment.

Businesses can choose to subscribe to F&O as a stand-alone product or as part of a broader Dynamics 365 suite that includes additional business applications such as Finance, Supply Chain Management, Customer Engagement, Talent, and Business Central, among others.
How much does it cost to implement Dynamics 365 F&O?
The costs of Dynamics 365 Implementation can vary depending on the complexity of the implementation, the level of customization required, as well as ongoing maintenance and support.
Plus, the availability of internal resources and Dynamics 365 Implementation partners or consultants also affects the cost.
Thus, though Dynamics 365 F&O is a powerful and comprehensive ERP solution that can help businesses improve their operations and drive growth, it is important to carefully consider the costs associated with it.
A thoughtful investment can ensure that the customized solution aligns with your organization's needs and goals.
Hence, if you're into construction business and would like to accelerate its operations, connect with your Microsoft Dynamics 365 Partner like Dynamics Square based in Vancouver, Ontario, and other locations across Canada.
Or if you already have an ERP system - D365 F&O - in place and require a third-party solution to enhance its functionality to counter business challenges, we can help.
We are a leading Dynamics 365 Implementation partner across Canada. Contact us today to get started with doing more with less!