6 Ways to Reduce Resource Planning Costs for a Business
"The secret to increasing sales is maintaining the highest operational efficiency and optimizing business operations without incurring additional costs. Plus, if it can be done with the same workforce, it is genius! Read more to know how you can decrease the resource planning costs for your growing business."
Enterprise Resource Planning (ERP) is the backbone of an organization. Statistics like – the ERP software market size is projected to grow to $90.63 billion by 2030 with a growth rate of 9.1% for the forecasted period 2023 to 2030 – suggesting a positive change. Source: Contrive Datum Insights
That is, companies of all sizes are ready to adopt a modern ERP approach - cloud-based ERP solutions. Because these cloud ERP solutions cost less and are highly efficient for any shape, size, and niche of a business.
Cloud ERP solutions are making waves among organizations across industries and helping companies become better at financial management, payroll, inventory management, human capital management, work order management, procurement, supply chain management, and more.
So, considering these modern ERP approaches, let's explore some of the core ways how to reduce ERP costs for an enterprise while keeping the same workforce.
6 Key Strategies to Minimize Resource Planning Costs
1. Prioritize the Use of the Latest Technology: Using modern resource planning software and the latest technology solutions like AI-powered Copilot can help you automate manual tasks, reduce paperwork, quickly turn ideas into actions, and increase the overall efficiency of your business operations. It will lead you to decrease costs in the long run.
2. Streamline and Simplify Processes: By reviewing and simplifying resource planning procedures from time-to-time to minimize redundancy and eliminate unnecessary steps. It assists companies to avoid costs associated with time and resources.
3. Implement Resource Optimization: Businesses can focus on optimizing the use of resources, such as human workforce, equipment, types of machinery, inventory, and more by forecasting demand and improving usage patterns. It can lead to reduced costs associated with overproduction or idle resources.
4. Outsource Non-core Activities: Contracting out non-core activities like administrative tasks or resource planning to third-party providers can help you save time, money, as well as your resources while still maintaining quality.
5. Provide Regular Training and Development Opportunities: People working for an organization are a real asset. Businesses can invest in employee training and development to improve their skills, foster innovation, and collaboration, and reduce errors or inefficiencies that can result in more costs.
6. Adopt A Cloud-based ERP system: Cloud-based ERP systems like Dynamics 365 Finance and Operations (D365 F&O), Business Central, or Dynamics 365 Supply Chain Management (D365 SCM) can help minimize costs associated with infrastructure, maintenance, and upgrades. By leveraging the scalability and flexibility of cloud-based systems in place of legacy ERP systems, businesses can reduce IT costs and focus on what matters the most!
How Can Microsoft Dynamics 365 Further Help Reduce Resource Planning Costs?
Dynamics 365, Microsoft's suite of cloud-based business management applications, can further help reduce resource planning costs in the following ways:
Eliminate Data Silos: When different departments or functions within an organization have their independent systems for resource planning, it can lead to duplicated effort, miscommunication, and increased costs. Implementing a single, integrated ERP system like Dynamics 365 Finance can help reduce data silos, increase financial visibility, automate scanned invoices, and streamline payroll processes, resulting in reduced costs.

Note: Dynamics 365 Finance and Operations (formerly Dynamics AX) is now available in two separate modules: Dynamics 365 Finance and Dynamics 365 Supply Chain Management. If you're using D365 SCM, you can opt for Dynamics 365 Finance at the subsequent cost of $30 per-user/per-month.

Use Data Analytics & Robust Business Intelligence (BI): Any Dynamics 365 ERP system like Business Central have built-in data analytics features and the amazing power of Microsoft Power BI that can provide insights into resource utilization, production efficiency, and other areas that impact costs. By using growth-oriented features in Microsoft Dynamics, organizations can identify areas for improvement and optimize resource planning to reduce costs.
Automate Workflows: In addition to automating manual tasks, businesses can also automate workflows within their ERP systems to reduce wait times, and machine downtime, minimize errors, and maximize efficiency.
For example, automating purchase orders and invoices with Dynamics 365 Business Central can help reduce processing time and eliminate errors that can lead to added costs. You can also use the "tell-me" feature in Business Central to quickly find what you're looking for. It's like any search engine out there.


Does Resource Planning Software Like Dynamics 365 Cost a Ton of Money?
The cost of resource planning software like Microsoft Dynamics 365 can vary. Because it involves various ERP cost-influencing factors, such as the size of your business, the complexity of the business operations (like whether you're into manufacturing or financial services), the number of users, and the level of customization required.
For example, Dynamics 365 Business Central (an all-in-one cloud-based ERP solution) offers different subscription options based on the number of users and functionalities needed, with $70/user/month pricing.
Dynamics 365 Pricing and Licensing for Small Businesses: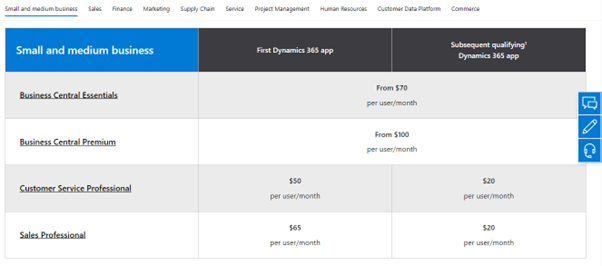 Dynamics 365 Finance and Operations (D365 F&O) on the other hand is used by larger organizations with more complex operations. It may have higher costs associated with implementation and customization. Again, its costs vary since there are a range of factors involved.

Dynamics 365 Finance and Operations Pricing Plans:
However, Microsoft offers a range of pricing options, including cloud-based and on-premises installations, or hybrid implementation options which can help organizations choose the option that best fits their budget and needs.

If you want to scale the roadmaps for your business, a digital resource planning solution like Dynamics 365 may require a first investment but it's worthwhile eventually. A business-centric ERP can benefit an organization in terms of increased efficiency, reduced costs, and improved decision-making.
How Can Dynamics Square Help You Minimize ERP Costs?
Modern ERP solutions are key to providing a better customer experience, securing data from all ends, and increasing efficiency at all levels. Businesses can only leverage the full potential of ERP systems like Dynamics ERPs when they know how they can be used to achieve specific goals and objectives.
If you are a CFO, CIO, or business owner and want to get the most out of your enterprise resource planning system or would want to upgrade your current ERP system to a cloud-based ERP like Dynamics 365, reach out to us.
We, at Dynamics Square, are a trusted team of fundamentally sound Microsoft Dynamics 365 ERP experts ready to help you at every step of your digital transformation journey. Our team of reliable Microsoft Consultants will guide you to correctly use ERP systems so that you can enhance your business operations and improve bottom-line growth.