Top 7 Dynamics 365 Business Central Functionalities & Benefits for Businesses in 2023
It doesn't matter if your niche is a small or medium-sized business (SMB), it's crucial to have the right business management tools. Microsoft Dynamics 365 Business Central or SAP S/4HANA Cloud can help you stand out, grow, and succeed.

Besides other ERP tools on the market, D365 Business Central is the right tool for your business. Because it is an all-in-one cloud-based ERP (enterprise resource planning) tool with many business-centric integrations, resulting in effectively and efficiently managing your business operations.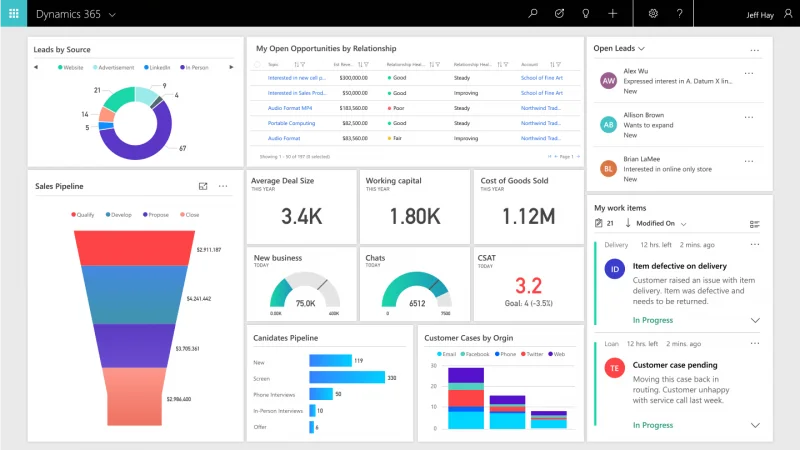 Data shows that companies for which Microsoft Dynamics 365 Business Central is integral to their growth, include Brookfield Asset Management (with 180000 employees, $75.73 billion revenue), Michelin Group (that has 125000 employees, $25.03 billion revenue), XPO Logistics, Inc. (powered by 119750 employees, $16.25 billion revenue), Dirk Rossmann (56300 employees, $12.30 billion revenue), Tarrant Capital IP, LLC (1013 employees, $4.88 billion revenue), and thousands of other organizations in Canada.
Resource: Apps Run The World

So, if you're just starting out or looking to take your business to the next level, read on to discover Business Central's top 7 features and their benefits.

Top 7 Dynamics 365 Business Central Features & Functionalities
Streamlined Accounting: D365 Business Central integrates financial management, supply chain, and dynamics 365 sales into one system, simplifying accounting and financial reporting processes.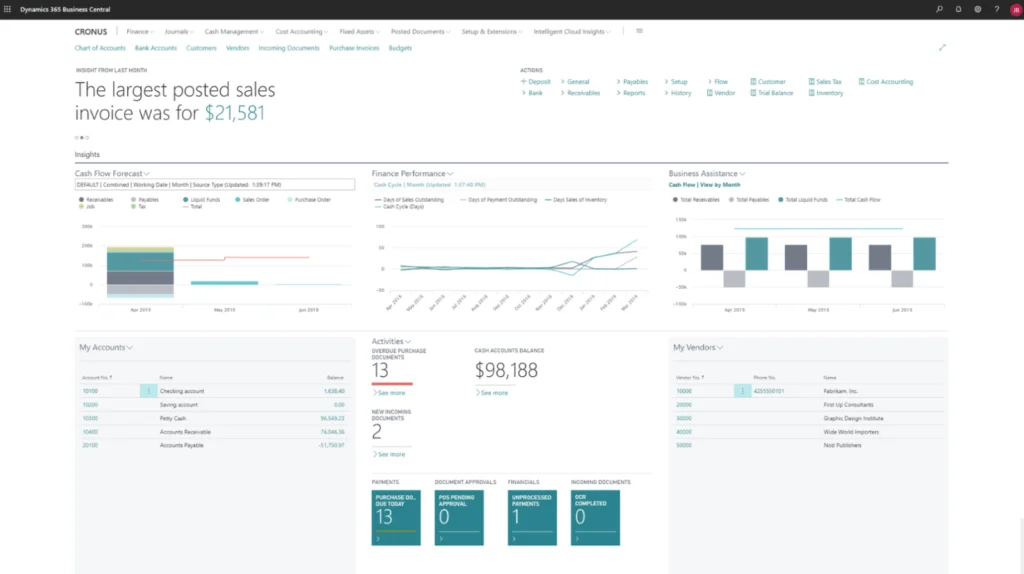 Inventory Management: The system includes real-time inventory tracking, automatic reordering, and purchasing management to optimize stock levels.
Project Management: Business Central provides project management capabilities, allowing teams to plan, track, and deliver projects effectively.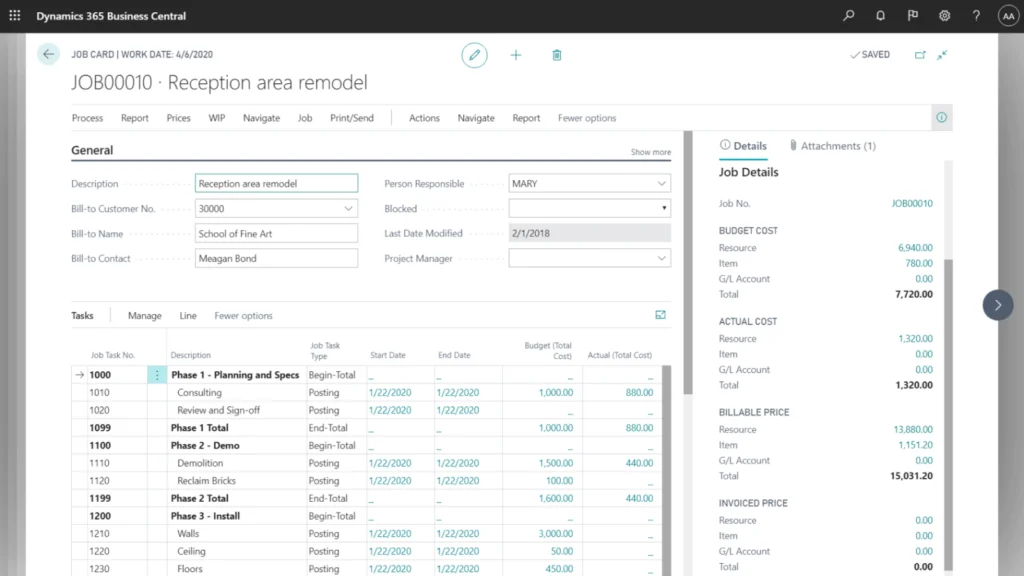 Customer Relationship Management: Dynamics 365 Business Central helps manage customer interactions, track sales, and analyze customer behavior to improve customer relationships.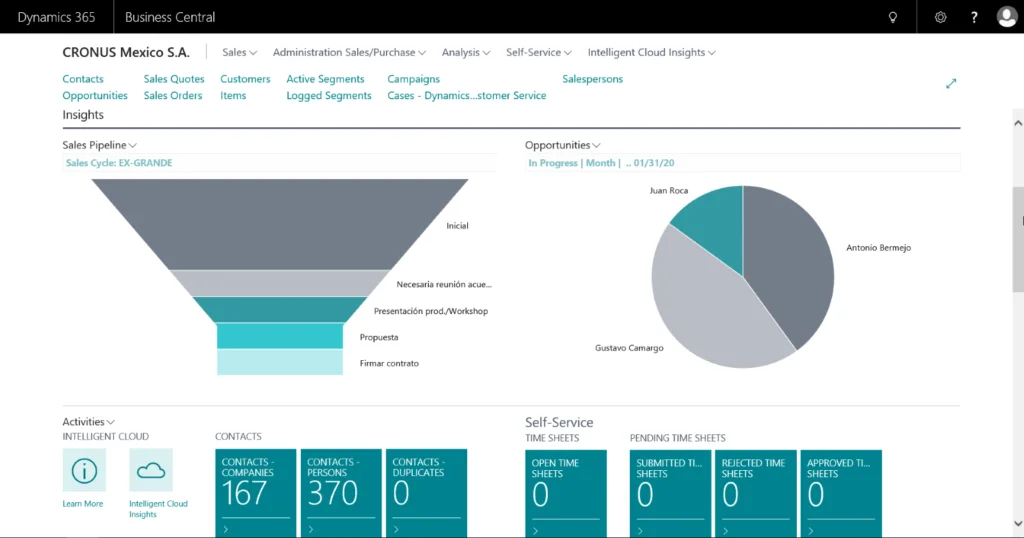 Supply Chain Management: This all-in-one cloud-ERP platform provides advanced d365 supply chain management features to help businesses manage suppliers, deliveries, and shipping.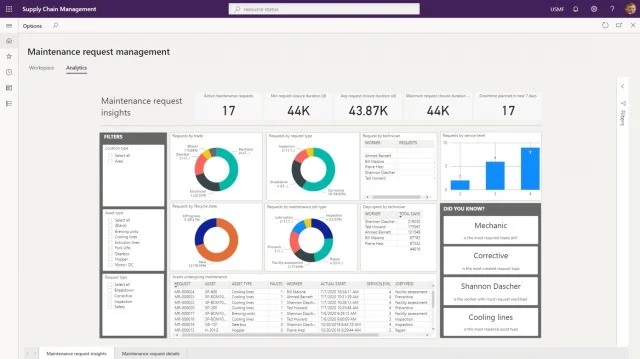 Sales & Marketing Automation: Automate sales and marketing processes with features like lead management, email campaigns, and marketing automation are central to D365 Business Central.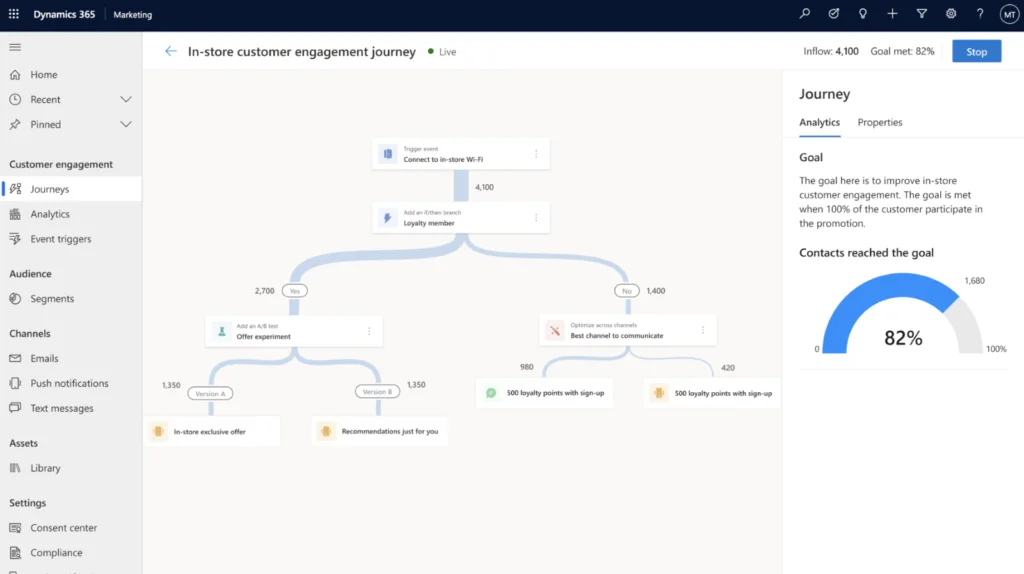 Business Intelligence & Reporting: The system offers a powerful suite of reporting and business intelligence tools and integration with Microsoft Power BI, along with real-time dashboards and data analysis capabilities.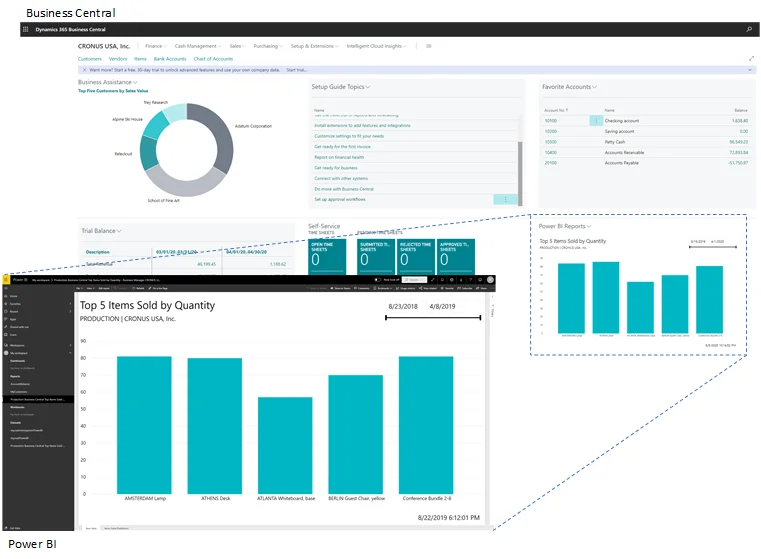 Well! These are the top 7 features and their benefits of using Dynamics 365 Business Central at your premises in 2023.
This cloud ERP platform provides a comprehensive solution for businesses, enabling them to seamlessly streamline their operations, improve customer relationships, and drive growth at scale.
If you're looking for an affordable Dynamics 365 Business Central Implementation, whether in the cloud, hybrid, or on-premises, you will need help from trusted Microsoft Dynamics 365 Partners in Canada like Dynamics Square. Experts at these certified Gold Microsoft Partners have real industry experience in implementing CRM/ERP applications.
Contact our Dynamics 365 team to get Dynamics 365 Business Central Implemented in record time and under budget. Are you ready to unlock the potential of your small business? Our Dynamics 365 experts can help you with every step of your digital transformation journey. Get in touch.
What is the Licensing and Pricing for D365 Business Central?
Microsoft helps you by offering Dynamics 365 Business Central in three of its editions that are subscription-based: Essentials, Premium, and Team Members.
Here are the details of each license for business owners in Canada:
Microsoft Dynamics 365 Business Central Essentials Pricing
The Essentials License for Dynamics 365 Business Central is priced at $89.60 (CAD) Per User/Month and includes full financial distribution and visibility functionality, as well as project accounting and job functionality. There is no limit on the number of users that can be included.
D365 Business Central Essentials License Features
The Essentials License provides access to a wide range of features and functionalities in Business Central, including financial management, HRM, advanced AI-enabled forecasting, CRM, project management, supply chain management, and warehouse management.
Dynamics 365 Business Central Premium License Pricing
The Premium License for Dynamics 365 Business Central costs $128 (CAD) Per User/Month and offers full functionality, including manufacturing, distribution, financial management, field service, and light CRM capabilities. It is not possible to combine the Premium and Essentials licenses in the same deployment.
D365 Business Central Premium License Features
The Premium License offers access to the Essentials License features, manufacturing and distribution, advanced warehouse management, and field service management capabilities.
Microsoft Dynamics 365 Business Central Team Members Pricing
The Team Member License for Dynamics 365 Business Central is priced at $10.20 (CAD) Per User/Month and is suitable for users performing light tasks, such as entering time and expenses. It allows access to valuable information for all your Business Central users.
D365 Business Central Team Members License Features
The Team Member License allows users to view dashboards, run reports, and edit existing records. However, they cannot add new customers, generate sales invoices, or enter journal entries.
Is Dynamics 365 Business Central right for my Small Business in 2023?
For small to medium size and large international groups, Dynamics 365 Business Central is the right ERP solution in 2023.
Microsoft Dynamics Business Central is a cloud-based, all-in-one enterprise resource planning (ERP) solution. In 2018, Microsoft upgraded Dynamics NAV to Business Central to help small to medium-sized businesses.
This cloud ERP can single-handedly streamline and automate financial, customer relationships (CRM), supply chain, and operations processes.
If your small business is craving a comprehensive and flexible solution to manage your operations, then D365 Business Central can be a cornerstone for you.
However, it's always best to assess your specific business needs and evaluate different options to ensure you choose the best fit for your company.
Get in touch with our Dynamics 365 Experts to help you every step of the way.