What is Microsoft Dynamics 365 Business Central? An Overview
Deciding on which CRM (Customer Relationship Management) or ERP among various solutions like Dynamics 365 Business Central, Dynamics 365 Supply Chain, or other business management modules in Microsoft Dynamics 365 can be a cornerstone for your business. It is as difficult as searching for a lost needle in a haystack.
Moreover, many CRM solutions claim to be the best when you want to know their capabilities to help improve your sales, marketing, and customer service processes.
The same goes for Enterprise Resource Planning (ERP) software. Whether it's Oracle NetSuite, SAP ERP, Intacct, Sage, Workday Financial Management, Tally Solutions, or Microsoft Dynamics 365. Also, many other ERP software may also be popular in certain regions or industries.
Also, the popularity of different ERP software can vary depending on factors:
The size of the company
The specific industry the company operates in, and
The company's specific needs.
Now, I know what you're thinking - how do I decide? Which software is the right fit for my business?
No worries. All you need is to put your requirements before you and match them with an available business management application.
But here's a nice catch for you. What if I help you out with that?
Let's begin.
As I already perform daily research and work with ERP and CRM solutions consultants, you can rely on the information and guidance I am sharing here.
According to Forrester, Business Central from Dynamics 365 can be the right choice if you're looking to obtain everything to manage the operations of a small or medium-sized business.
In Canada, many organizations from different industries are already using this profit-thriving modern ERP solution. Read the stats here: Insights for the Use of Dynamics 365 in Canada
Business Central is a comprehensive business management solution. Some of the key features of Business Central include:
Contact and Account Management: Business Central lets your team manage all customer and prospect data in a centralized location, including contact information, account history, and sales data.
Sales Automation: This cloud ERP includes features such as sales forecasting, lead management, and opportunity management to help businesses intelligently streamline sales processes and close more deals faster.
Marketing Automation: Your sales and marketing teams can use Business Central to create and track marketing campaigns, as well as for analytics to measure the effectiveness of the campaign.
Service Management: With many tools and add-ons, Business Central helps you effectively manage customer service requests and track service history, including case management and knowledge management.
It is also worth noting that Dynamics 365 Business Central can also integrate with Dynamics 365 Sales (a specialized CRM solution from Microsoft) and Power BI. Using this integration, businesses can get a more holistic view of their customers and sales operations and take informed decisions.
The Most popular features and functionality of Dynamics 365 Business Central include:
Role-based user permissions
Accounts Payable
Standard Reports
Custom Reports
Though the interface is not that intuitive, its integration with Microsoft's ecosystem is excellent. Business Central is an affordable ERP for small to mid-sized companies.
Dynamics 365 Business Central (formerly Dynamics NAV or Navision) is central to your business. You can blissfully manage your financials, supply chain, and projects anytime, from anywhere.
If you already have Dynamics CRM and want to move from Dynamics GP (Great Plains) to Business Central, it is a genuine move to auto-manage your general account functions, Sales processes, and more.
The return on investment (ROI) is amazing with Business Central compared to Great Plains (GP) as you can save on every need for custom integration. Also, the support for Dynamics 365 Business Central is top-notch.
Business Central is VERY EASY to IMPLEMENT and delivers Excellent Value for the price. You can live up to most of your Sales and marketing promises as anticipated. This cloud ERP helps you eliminate the need to track products and sales in multiple systems.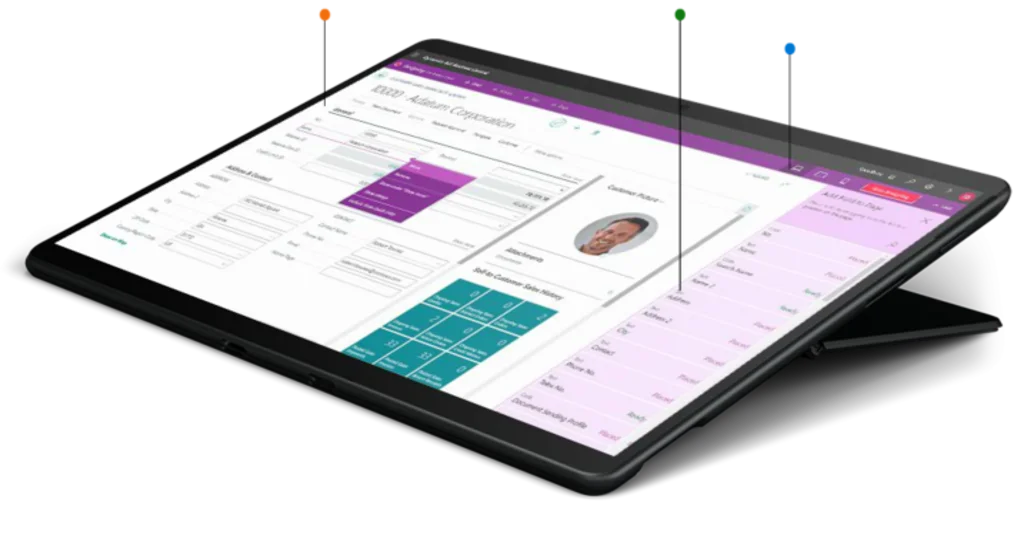 Integration of Business Central with other Dynamics 365 Applications and Office 365
Business Central is a cloud-based ERP solution. You can flexibly integrate it with other Dynamics 365 applications such as Dynamics 365 for Sales, Marketing, and Finance, as well as with Office 365 products like Microsoft Teams, Outlook, SharePoint, PowerPoint, and more.
This allows for seamless data sharing and collaboration between different business functions, tools, and teams. Additionally, Microsoft Business Central can also be integrated with third-party applications via connectors and APIs (Application Programming Interfaces).
For example:
You can use the freely available Outlook Dynamics CRM connector from Microsoft's AppSource and connect Outlook with Dynamics CRM or Dynamics 365 Business Central.
This enables the sender's details to be automatically displayed inside Dynamics CRM or Business Central itself, including email addresses, phone numbers, and any relevant opportunities. With one click, you can also file a message in Dynamics CRM/Business Central.
Licensing, Pricing, and Deployment of Dynamics 365 Business Central
You can deploy Business Central in a variety of ways, including as a cloud-based service or as an on-premises solution, or as a hybrid deployment (Cloud + On-Premises).
For cloud deployment, Business Central is available as a subscription-based service, with different pricing plans available to fit different business needs.
For on-premises deployment, you can avail yourself of Business Central's license using the traditional perpetual licensing model by paying a one-time license fee and using this solution indefinitely.
However, there is also the option of subscription-based licensing, which is a pay-as-you-go model and is like cloud deployment.
Get in touch with a trusted Dynamics 365 Partner like Dynamics Square, which is Canada's leading Microsoft Solutions Partner, for Business Central's implementation.
What are the Licensing and Pricing details for Dynamics 365 Business Central?
Licenses for Business Central is categorized into three primary categories:
Dynamics 365 Business Central "Full User" License
The 'Full User' license is for managing sales, customer service, finance, or supply chain management. Earlier it was popular as a 'Pro User' license.
Dynamics 365 Business Central Premium License
Premium License costs $128 (CAD) per-user/month and it includes the functionalities - full manufacturing, distribution, and financial management along with field service, and some CRM capabilities as well.
Dynamics 365 Business Central Essentials License
The Essentials license costs $89.60 (CAD) per-user/month and includes full financial distribution management capabilities, financial visibility, Project Accounting, and Job Role functionality.
This license has no limit for the number of users.
Business Central's Team Members License
A Team Members License is an inexpensive license. With this license, you can smartly manage your different teams at $10.20 (CAD) per-user/month.
Microsoft cares for its customers and created this option for those who perform light tasks, such as entering time, expenses, and purchase requisitions.
How Can I Successfully Adopt and Implement Business Central for my Small Business?
Adoption of Dynamics 365 is easy because of its easy-to-use and learn User Interface (UI). However, its implementation can be tedious at times if not done right.
Below is the Dynamics 365 Business Central Implementation process that most of the Microsoft Partners follow:
Plan and Prepare: Clearly define your business-centric goals and objectives to implement Business Central. Develop a detailed plan for how to achieve both. It helps you ensure that the Implementation of Dynamics 365 Business Central is successful and that all variables are on the same page.
Choose the Right Team: Get in touch with a team that has the necessary skills and experience to implement and support Business Central like the team of Dynamics 365 Consultants at Dynamics Square. Make sure that the selected team includes experience in both the technical and business aspects of the system.
Test and Validate: Before rolling out your cloud ERP for your entire organization, get it tested thoroughly to ensure that it is working as desired. It will help you identify issues and address them before the deployment of the system.
Communicate with Stakeholders: Keep all your stakeholders informed of the progress of the implementation and arising issues. It makes everyone aware of what is happening in the organization and that concerns will be addressed quickly.
Provide Training: Help users of Business Central learn how to use the system effectively. That is - use the system to its full potential and that adoption is successful.
Continuously Monitor and Improve: Once the system is in place, continuously monitor its performance and make any necessary adjustments to improve its effectiveness. This helps you to be sure about meeting the existing and evolving needs of your organization.
Summarizing What you went Through!
Dynamics 365 Business Central is a versatile, cost-effective, and comprehensive cloud ERP solution that is ideal for small or mid-sized businesses.
The solution is highly scalable, easy to use, and offers automation for many of the day-to-day manual tasks that small and mid-sized businesses must perform.
This includes automation for accounting, inventory management, and financial reporting.
With such an all-in-one business management cloud solution, your teams can focus on growing by managing your core business operations.
Moreover, Business Central gets flexibly integrated with other systems, such as CRM and e-commerce platforms like Dynamics 365 for Sales to streamline sales operations and improve marketing with Dynamics 365 Marketing.
Additionally, since Business Central is a cloud-based ERP + CRM solution, you can access data and systems from anywhere, anytime. And Microsoft D365 Business Central can be implemented for a fraction of the cost of larger enterprise systems.
This solution also drops the need for multiple systems and software, which can help you save tons of costs, making it a great option for all small or mid-sized businesses in 2023, and beyond.