Warehouse Management Solutions in Dynamics 365: Maximize Operational Efficiency
Warehouse Management is not as easy as it appears to be, it comes with many intricacies related to inventory, costing, shipping, workflow, labor, and other operational processes.
It certainly becomes even more challenging for global and bigger organizations that handle warehouses across different parts of the globe. Each has its own set of complexities and market dynamics.
Thankfully with the advent of the digital revolution, warehouse management has adapted to advanced technologies and made the entire process much more optimized.
Yes, now we are witnessing a paradigm shift after warehouse management has embraced new-age breakthroughs like Artificial intelligence, and the Internet of things, Robotics, etc.
Further, the power of cloud solutions has traversed advanced operational efficiency to a groundbreaking one. The Cloud ERP systems have brought forth a revolution by successfully streamlining critical areas of improvement in warehouse management around the world. This Dynamics 365 implementation has a huge impact on productivity and efficiency.
The impact of these advancements is enormous and sustainable. Global companies that have embraced these next-gen technologies are witnessing a productivity increase of 75% and a decrease in operational costs of up to 60%.
Now let's delve and see how warehouse processes have become organized from cluttered. Let's see how Cloud-based warehouse management solutions and Mobile WMS have changed the game like never before.
Revolutionizing Warehouse Management with Cloud-Based Warehouse Management Solutions
Dynamics 365 Supply Chain Management ERP is progressively optimizing and streamlining warehouse processes. It is helping businesses by providing insights, optimizing inventory management, increasing customer satisfaction, and reducing costs.
Now let's scroll down and delve into how Microsoft's Dynamics 365 implementation has modernized warehouses from cluttered to organized:
1. Enhancing Accuracy and Scalability in Inventory Management System
Before this revolution of cloud-based ERP, handling physical inventory in warehouses resulted in errors and redundancies. Even a single could hamper other functions in these complex environs of warehouses across the globe.
They faced inconsistencies in inventory management, unhappy clients, and unfulfilled orders, which would decrease profitability.
Now with D365 Supply Chain Management, warehouses can automate and optimize critical functions to minimize errors. Microsoft's Cloud ERP can configure the built-in machine learning application to guide you right from managing the raw materials to delivering the finished goods.
2. Manage End-to-End Solutions through Cloud ERP System
In the complex warehouse system, planning, allocating, and utilizing your resources optimally was difficult. This unorganized system led to delayed picking and order fulfillment, which resulted in increased efforts & costs.
Especially after COVID-19 retailers and operators encountered issues while navigating the new normal. Issues like Growing labor constraints and demand volatility came up frequently. Complex Multichannel distribution and immense Storage capacity challenges were witnessed.
However, now with Cloud ERP systems, they can manage end-to-end solutions. Be it task automation, cluster picking, operational streamlining, enterprise data collection, etc.
3. Leverage Real-Time Intelligence with Dynamics ERP
As warehouse management works through multiple complex processes, it can be difficult to communicate effectively and make prompt decisions. This lack of correspondence caused productivity issues.
But with a Cloud-based ERP system, you can get a complete overview of the warehouse processes with interactive reports from Microsoft Power BI. One can easily analyze major trends and make progressive decisions to maintain the functionality of the warehouse.
4. Handling Global Accounts Successfully
Nowadays almost every company has warehouses in different parts of the world. So, managing warehouses from different corners of the world takes a lot of effort. However, cloud-based warehouse management solutions have eased and optimized the task automation process, cluster picker tracking, enterprise data collection, and labeling cycle counting programs.
Streamlining operations through advanced technology used in Microsoft Dynamics ERP has elevated the growth of the warehouse management team. Especially where agile scalability is required.
How Mobile WMS for Business Central is Creating a Revolution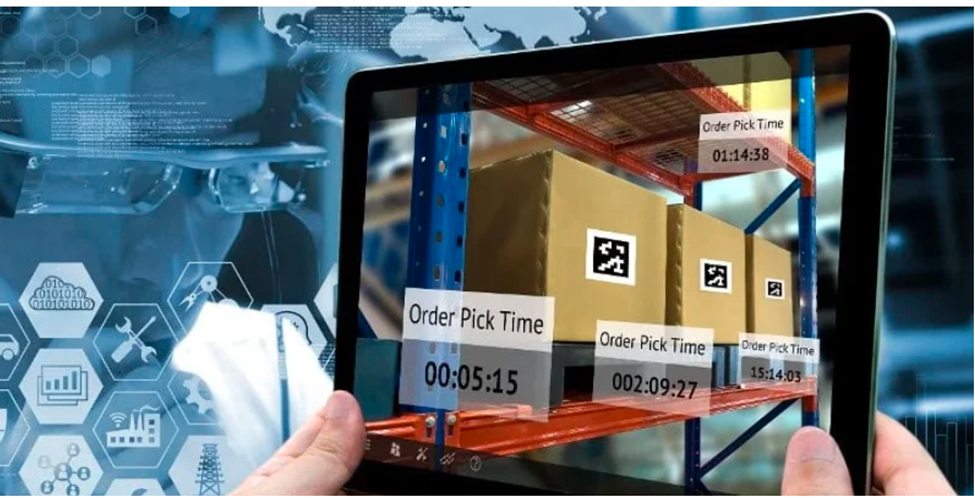 Modern warehouse management solutions for Dynamics 365 Business Central can help improve real-time visibility into inventory levels, provide the ability to automate and streamline operations, and drive greater efficiency across the organization. The intervention of Mobile WMS Enhanced productivity like never before.

Earlier there were challenges faced by businesses that wanted to expand and grow. They found that a modern WMS solves their issues related to costs, resources, and inventory management with an agile, digitally connected solution.
1. In Optimizing Key Operations
Microsoft Dynamics 365 mobile helps warehouses optimize key operations like inventory tracking and shipping coordination. They streamline through an advanced framework. This framework can successfully support complex, high-end, and critical business processes.
Not only this, with this advancement companies were able to reduce costs through improved storage space. They even garnered goodwill through improved customer satisfaction via on-time and in-full delivery.
2. Save Time & Costs
This modernization traversed into immense Business growth and agility leading to meeting market demand and product development. Finally, teams in warehouses could save employees time to focus on what's next.
Need Expert Help in Selecting the Right Warehouse Management Solutions?

If you operate a warehouse and have glitches in the processes? Or if you already invested in Dynamics 365 or are about to. So, let me tell you how Microsoft's Solution Partner – Dynamics Square can help you.

Dynamics Square has solutions backed by Microsoft which have supported many warehouses around the world already. We carry numerous exemplary portfolios for the same.
Our team will help you to optimize your warehouse by - streamlining the storage capacity, automating daily tasks, managing inventory, and will help you to get more output from your business. Not only this, but Dynamics ERP partner can also help in proffering advanced inventory and warehouse capabilities.
Dynamics Square Consultants has helped 500+ companies with helping them with the appropriate Cloud-based ERP Systems. Contact our Dynamics 365 partner for guidance on how you can convert your warehouse from disorganized to organized.
For more details, write us an email at arish.siddiqui@dynamicssquare.com or call us directly at +1 289 807 0740.