Top 15 ERP Systems That Will Make Your Business Progressive
You must be looking for a suitable ERP systems for your business or might be looking for an advanced version. If you are new to this, then you must be wondering what is an ERP system. So, let me begin this by introducing it with other essential details.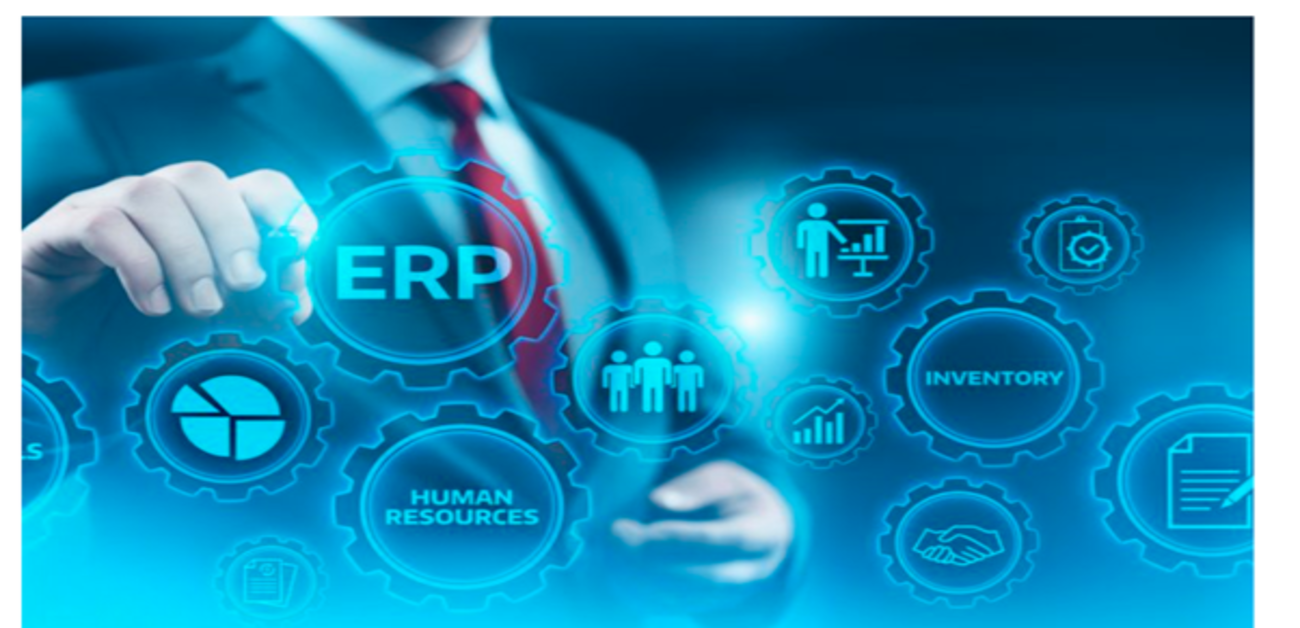 Cloud-based ERP (Enterprise Resource Planning) is indeed software that organizations use to manage business activities. It can effectually manage tasks like accounting, procurement, project management, risk management and compliance, and supply chain operations.

AI-powered ERP systems like Microsoft Dynamics 365 Copilot help businesses automate and manage essential business processes within a single platform. These systems oversee daily operations, including supply chain management, accounting, Customer Relationship Management (CRM), and Human Resources (HR), among others.
This is significant in today's business world as it simplifies workflows, reduces glitches, and inefficiencies, and can streamline productivity like never before.
Not only do ERP systems streamline operations, but they also offer significant cost-saving opportunities. For instance, businesses can achieve a 22% reduction in administrative department costs, a 23% savings in overall operational expenses, and a 21% decrease in costs across other business functions.

There are numerous ERP systems available in today's market, each with its own set of features and capabilities. However, selecting an ERP system that aligns with your specific business needs is crucial.
To assist you in making an informed decision, we've outlined the key advantages of the top ERP systems commonly used in the industry. Additionally, to gain insights into the right time to implement an ERP system in your business.
1. Microsoft Dynamics ERP Solutions

Microsoft offers two top ERP software – Dynamics 365 Business Central and Dynamics 365 Finance and Operations. Industry experts around the world recommend Microsoft Dynamics as the best ERP for all mid-small and large-scale industries.
Being a product of world-renowned Microsoft, Dynamics 365 Business Central is charting due to the usual interface and application environment. Presently, Microsoft Dynamics 365 ERP is assisting a range of industries, including manufacturing, healthcare, retail, and financial services.
Let's scroll down to read more benefits:

In the new age era, businesses get intricate data that helps them to navigate complex sales strategies. Microsoft's Dynamics ERP helps to boost your sales to accelerate your operations using AI technology.
Through ERP products, you can enhance Marketing campaigns, personalize your customer experience, and increase customer engagement and loyalty as per the ongoing metrics. Further, with Microsoft Dynamics, you can optimize customer service, field service, and remote assistance.
Businesses can create resilient and intelligent supply chains through Microsoft Dynamics 365 Finance and Operations.
Project management tools that can amplify core business processes in one application, simplify time tracking and expense management, optimize resource utilization, etc.
You can get in touch with our consultants to learn about these dynamics ERP products.
2. Oracle NetSuite ERP Solutions
NetSuite is another popular enterprise resource system that offers myriad modules for the automation of business processes, improving operational insights, etc. Apart from this NetSuite ERP offers the following solutions:

It has Finance management software to streamline daily financial operations, and account software that amplifies accounting tasks, accelerates reporting cycles, and ensures industry compliance.
It is known for Global Business Management as it allows multi-subsidiary companies to manage their entire enterprises in one system. It lets businesses manage their operations across varied geographical locations.
This ERP proffers pre-built role-based dashboards, reports, and key performance indicators (KPIs)
It can optimize to meet your every business requirement. This gives the clients the flexibility to meet the paradigm shift in business perspectives.
Read More: Oracle NetSuite ERP
3. Sage ERP Software Solutions
Sage is one of the most popular small business ERP systems. It is gaining momentum for its growing demand in accounting, payroll, and payment systems. This is one of the most common ERP systems that provides solutions for all industries. It is designed for startups, scale-ups, and enterprise companies. Let's see why Sage is growing due to the following reasons:
SAGE manages increasingly complex processes in a timely and cost-effective manner.
Sage ERP offers full integration with purchasing, financing, sales, inventory, and manufacturing to amplify business efficiency and meet customer demands.
Sage incorporates AI-powered processes and connected workflows for accounting, billing, source-to-pay, etc.
Sage X3 provides cohesive formats for accounts, further the software maintenance is easier, and teams across countries find its processing easier due to standardized processes.
4. SAP ERP Solutions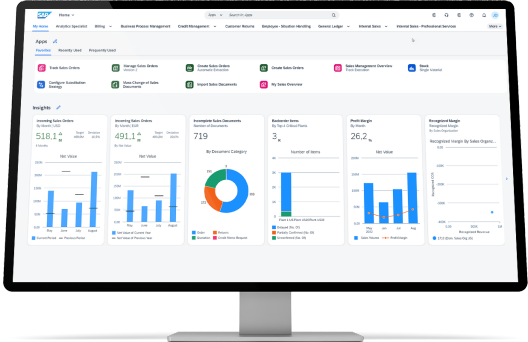 SAP ERP Solutions is a famous software suite that supports and aids core business processes like manufacturing, customer BI, Vendor management, sales & marketing, and operations. It comes with tools required to enhance efficiency, competitiveness, and growth. This ERP has other benefits like:

SAP ERP has customized solutions which makes it indispensable in inventory management, retail management, transport management, and maintaining excellent vendor relations.
The SAP ERP takes care of the company's financial transactions and accounting requirements. It manages the supply chain whilst maintaining relations with customers and clients.
This ERP manages your entire small or midsize business with an intelligent, sustainable enterprise that consistently applies advanced technologies.
Read More: SAP ERP
5. Acumatica ERP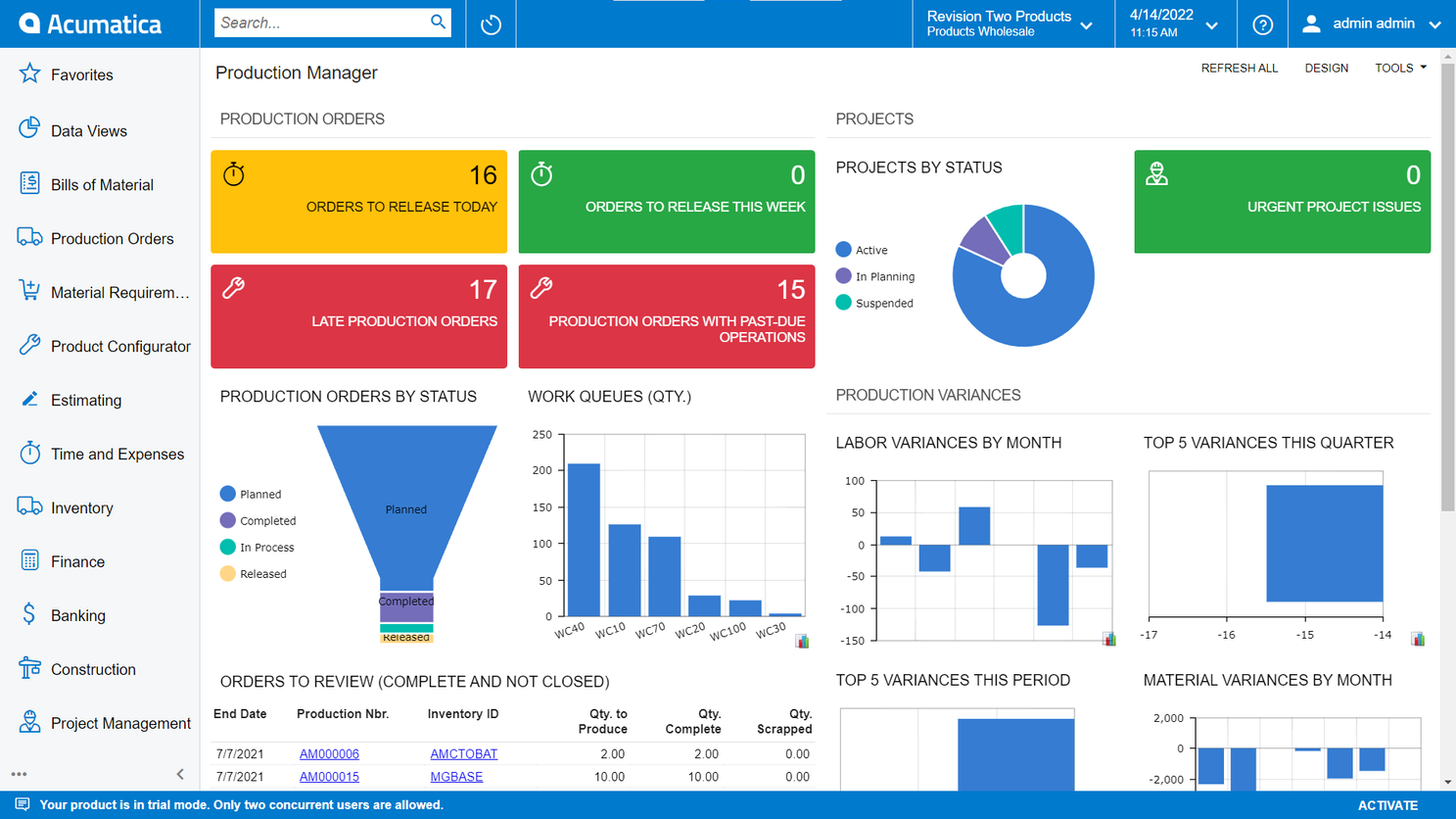 Acumatica ERP is one of the best examples of ERP's as it is personalized to meet each unique business needs. It has empowered many businesses. Acumatica technology is embedded in a future-proof platform that comprises open architecture for scalability, agility, and ease. It is ideal for mid-sized business companies. The other benefits of this ERP business software are:

Acumatica is built on a cloud platform; it is a flexible ERP that allows one to work from anywhere. The modular structure provides scalability and the ability to expand the business when it grows.
The application integrates varied applications like inventory management etc. This ERP Software also aids businesses to follow industry-specific regulations and compliance standards.
This ERP helps customers to update, improve functionality, address issues, and decode other essential issues.
6. Epicor ERP Solutions
Epicor is one of the common ERP systems that lets varied organizations manage numerous operations, including finance, manufacturing, supply chain, human resources, customer relationship management, etc. Other advantages of this ERP are:
Epicor ERP is known for sharing real-time insights whilst delving into various aspects of the business.
This ERP is for businesses that require advanced reporting, analytics, and metrics. The system offers robust reporting and analytics capabilities, allowing organizations to generate customized reports, dashboards, and data visualizations to gain deeper insights into their operations and performance.
Epicor ERP helps organizations amplify their supply chain with advanced tools for tracking, managing suppliers, and optimizing procurement processes.
7. Orion ERP Solutions
ORION ERP is an integrated, cloud ERP software for growing and midsized firms. Using ORION Enterprise, organizations can seamlessly incorporate the acceleration of varied operations, processes, and systems, making it a progressive enterprise resource planning solution. Read ORION ERP Reviews:
Orion ERP often offers various modules to manage different facets of business. This ERP System aims to centralize data, streamline workflows & accelerate efficiency in various domains of an organization.
It streamlines account management operations, supply chain management, human resources, customer relation management, and for managing production processes in the entire system.
8. TallyPrime
Tally Prime is one of the Best ERP software for small and medium businesses. Common modules include accounting, inventory management, payroll, sales, and purchase management. However, make sure it aligns with your industry and business type. Other common reviews are listed below:
TallyPrime is known for its easily adaptable interface, which is an advantage for SMBs with limited IT resources. It's important to choose software that your team can easily navigate for various reasons.
This ERP Solution can scale your system even when you are growing. It is accommodating to your evolving needs and growth domains.
9. Infor Cloud Suite
Infor CloudSuite Industrial (SyteLine) is an efficient ERP Software designed to serve manufacturing and distribution industries. It provides end-to-end solutions designed for Web App. This online ERP system offers Robust Analytics, Order Fulfillment, Enterprise Asset Management, MRP, Quotes/Estimates, What-if Analysis in one place, and other beneficial benefits as mentioned below:
It has an efficient system that can design campaigns that can convert potential leads into customers.
Infor CloudSuite is delivered as a subscription-based cloud service, which means that users can access the software from any location.
It has efficient tools to manage finance, accounting, HR, and customer relation management processes in an organization.
Read More: Infor Cloud ERP
10. ProQSmart
ProQSmart is an AI-powered ERP Solution for Manufacturing companies. ERP systems like ProQSmart are essential for streamlining and optimizing processes within manufacturing organizations. Here are some key features and benefits of ProQSmart:

ERP ProQSmart can let manufacturers reduce costs, and thereby make informed decisions to stay competitive in today's market.
This ERP is quite efficient in predicting data and automation. AI can help manufacturers identify production bottlenecks and optimize resource allocation.
It can optimize inventory, supply chain management, quality control, and cost control.
11. Ramco ERP
Ramco ERP is a cloud-based ERP tool that enables organizations to access critical business data. Ramco ERP software helps you to manage operations from one integrated platform. Its other benefits include:
It is capable of handling all the operations. Implementing a RamcoERP system can lead to better efficiency, improved data accuracy, better decision-making, and enhanced overall business growth.
Ramco ERP can help businesses manage all their domains including sales processes, track customer interactions, and improve customer services.
12. TYA Suite ERP
TYA is an effectual ERP for startups, SMEs, agencies, and enterprises. It encompasses many benefits for various business functions such as finance, human resources, inventory management, customer relationship management (CRM), and more. Some other benefits are mentioned below:
It is known for effectively turning your accounting into business management software.
This ERP Business Software successfully manages your projects based on their milestones.
TYA Suite ERP diminishes the requirement for IT infrastructure helping the organization to reduce the costs by an increased margin thereby exponentially elevating the ROI.
13. IFS Cloud ERP
Many across the globe consider it the best ERP for your business. IFS Cloud is tailored for the aerospace & defense, engineering, construction & infrastructure, energy, utilities & resources, manufacturing, and service industries. IFS Cloud includes robust financial management and Supply Chain Management Features - Other benefits include:
IFS Cloud is hosted in the cloud, which is why it offers many benefits, including scalability, and accessibility from any location of the world with an internet connection.
This cloud-based ERP reduces the requirement for on-premises infrastructure and maintenance.
14. AlignBooks ERP
Trusted by many businesses, this ERP has benefits that are in sync with modern business needs. The users can access their financial data and can do their tasks from anywhere. This flexibility is valuable for professionals who are frequently traveling. The other features include:
This ERP prioritizes data security by following security measures to safeguard sensitive financial information.
This is widely used by chartered accountants and accounting professionals who look for advanced accounting solutions.
15. IXpert ERP
IXpert ERP is systemically designed for trading, manufacturing, and project industries. This ERP system is specialized enough to offer features uniquely beneficial to these sectors. The most lauded fact of this ERP is that it is accessible to business professionals who may not have programming experience. This ERP is popular for –
It claims that they have error-free programming which can solve many issues for many businesses.
Its business intelligence tool is popular for deriving data-driven insights for strategic decision-making,
Our top ERP comparison is to give you a fair idea about the basic details. However, you should decide which is the most essential criterion for you after delving into this blog. Then we advise you to narrow down your options based on your business requirements.
Dynamics Square Consultants have helped 500+ companies with helping them with the appropriate ERP. Contact our experts for guidance on Dynamics 365 implementation, support, and upgrade services to all businesses.
For more details, write us an email at arish.siddiqui@dynamicssquare.com or call us directly at +1 289 807 0740.