5 Key Metrics to Improve Customer Experience (2023)
"If your company is expanding but not at the required rate, you need to strengthen your ties with your clients. Deep dive into this short article to know and track 5 key "must-track" CRM metrics that will significantly improve the customer experience. This blog post also talks about the best CRM software for your niche."
Relationships aren't easy to build. Trust is not something that can be bought. It builds over time. Plus, relationships need constant nurturing since things take time to get on track.
The business conducting environments, as well as markets, are running at a fast pace. Companies are coming up with new strategies each day to market and sell their products. Also, the demand for quality products is exponentially growing.
Amid all this.
How do you measure customer experience to pitch your product or learn about what customers want?
What are the factors that you're lacking to successfully meet customers' needs?
How do you quantify what's in demand?
Even if you have quantified it, What do those numbers mean?
How do you understand the insights from your data?
What do they say?
And so on.
So, to spin your head around, there's something called customer data. It has details that will (if you visualize it using CRM software or a business intelligence tool like Power BI) help you learn about what's in demand and how you can fill the gap.
Tracking the data points will provide you with what's working and what's not. It will also help you in perfecting your marketing campaigns to achieve the desired results.
Let's get started to deep dive into exploring more by getting ourselves aware of a bit of what we mean by customer experience (CX in short).
What is Customer Experience?
Customer experience or abbreviated as CX, is a study of your product-customer interaction. It helps a company learn about its current customers' journey and opens doors to win new customers. This begins the day people become aware of a product or a service (of course via word of mouth or through digital means in today's tech-driven world) followed by its purchase.
It does not happen in the blink of an eye, CX takes weeks, months, or even years during which customers use a product or service and create a belief of its quality and whether they made the right investment.
In today's digital space where there are many equivalent products available to people, it becomes hard to earn new customers and keep the existing ones. It takes 5x more effort to win a new customer than retaining the existing ones.
Moreover, around 32% of people globally will say that they would stop buying from a brand they love if they had even a terrible experience. It happens and businesses are taking strict actions to not let their customers down in any way.
Thus, if you have experienced an analogous situation or had an experience with your clients, it's time to create remarkable experiences for your customers.
Why is there a need to Measure Customer Experience?
Numbers never lie, provided you have collected the correct data and information. Period! This may include surveys, journey maps, or other necessary customer experience measuring metrics that come into the picture with time. This process takes several years since its complex to figure out core influencing factors.
For example, you might get a customer through popular social media channels and connect with you via your website. However, filling out their shopping cart or a form to get the service doesn't mean that the customer is going to make a purchase.
So, to make the customer buy the selected items, you need to make use of journey maps that help visualize how customers interact with your product and what entities are becoming the points of friction that convince them to not go ahead and make a purchase.
5 Key Metrics to Measure Customer Experience
1. Cost Per Customer Acquisition (CPCA)
It is crucial to know how much you spend on getting new customers. One way to measure this is by calculating the Cost Per Customer Acquisition (CPCA).
The CPCA is the amount of money it costs a business to get one new customer. To calculate this, add up all the expenses in each period related to getting new customers, such as advertising spending, salaries, commissions, bonuses, and overheads.
Then divide that total by the number of new customers gained during that same period.
By doing so, you can figure out your price per lead and estimate the total expenses for your lead generation efforts.
Here's the formula that you can use to calculate CPCA:

Let's take an example to better understand CPCA.

Say you spent $10,000 on sales and marketing in one quarter, and you got 10 new customers from that.
Your Cost Per Customer Acquisition (CPCA) would be $1,000 (which is $10,000 divided by 10 customers).
This number tells you how much money you're spending to get each new customer. By knowing this, you can figure out how to get more customers based on your budget.
From this metric, you get to understand how effective your marketing efforts are. It also helps you know where to focus your resources better to win new customers and increase the number of won customers further.
2. Customer Retention Value (CRV)
CRV is the expected amount of money a customer will put on the table to do business with you. This metric helps you determine how much to spend on customer acquisition and assess the quality of your customer experience.
To calculate it, you need to multiply the average annual profit per customer by the average customer retention time, then subtract the cost of acquiring the customer.
Once you have this number, all you need to do is to improve it. Because improving CLV through customer loyalty programs is a path to sustainable growth.
3. Sales Cycle Duration
The sales cycle duration is the time from creation to closing. It shows how fast leads go through your sales pipeline. If a lead is slow to close, you can act like offering a discount to encourage them.
Below is the trend of Average Sales Cycle for the Last 12 Months: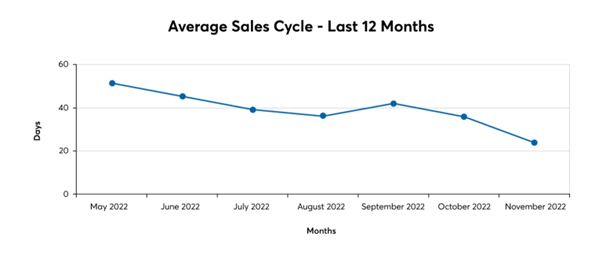 You can also optimize your assets to help sales reps spend time on the most qualified leads. The average sales cycle is a baseline metric for identifying sales reps who need improvement or have found success.

4. Marketing-Inbound Conversion Rate
This metric shows the percentage of new business generated by your marketing efforts. To calculate it, divide the number of leads generated from marketing campaigns by the total number of leads during each period.
Doing so will help you understand the impact of your marketing campaigns and refine resource allocation.
For instance, the percentage of new business driven by marketing can be as high as 50-85% if the marketing team handles lead generation. However, it can drop to 15-35% of leads generated through cold calling.
Note: The percentage will vary by industry and can be calculated by revenue instead of customers.
5. Customer Acquisition Payback Period (CAPP)
The Customer Acquisition Payback Period is the duration it takes to recover the cost of acquiring a customer. To calculate it, divide CPCA by margin-adjusted revenue per month for an average new customer.
Here's how you can calculate it:

This figure is relevant for industries using annual/monthly contracts.

For industries using one-time purchases, the upfront price should exceed CAPP. This metric helps set a correct budget and predict growth.
Note: Measuring your marketing and sales metrics helps to improve results and predict revenue. Use the available metrics in your customer relationship management (CRM) system to benchmark campaigns, optimize your efforts and increase confidence in future success.
Which CRM Software is best for my Business?
It is often difficult to recommend specific CRM software for your business as it depends on several factors such as your business size, industry, budget, specific needs, etc.
It's always an innovative idea that you research and compare CRM software options based on your business needs and budget and then select the one that fits your requirements the best.
You should read reviews, check demos, and consider the features, integrations, and pricing before deciding.
For example, Dynamics 365 for Sales - a sole source of truth to help you understand your customers, automate most of your sales processes, and close deals faster.
Formerly popular as Dynamics CRM, this cloud-based CRM software is built for enterprises to accelerate their sales by streamlining their sales activities, improving collaboration (via real-time collaboration), enhancing sales insights, and more.
Dynamics 365 Sales is a scalable CRM solution that seamlessly gets integrated with other Microsoft products like Outlook, Microsoft Teams, Microsoft Loop, and more to help you make it easy for your sales teams to focus on what matters the most. This CRM solution has built-in CRM analytics functionality to meet customer expectations and get success amid evolving markets.
Or you can connect with our team of Microsoft CRM software consultants who can provide you with excellent CRM solutions such as Microsoft Dynamics 365 for Marketing, Field Service, eCommerce, Customer Service, and other modules from Dynamics 365 suite like Dynamics 365 for Customer Engagement and Dynamics 365 for Project Management.